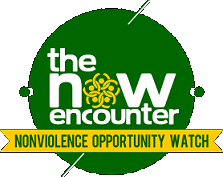 Greetings,
It is with great pleasure that I invite your organization to participate in our 3rd year summer youth camp, the "N.O.W. (Nonviolence Opportunity Watch) Encounter," where youth will develop and enhance their leadership and teambuilding skills.  The camp will prepare youth to be influential leaders and change agents serving as a catalyst to their peers.  We're presenting a fantastic opportunity for young people to experience an amazing week of Education, Inspiration and Entertainment. 
Our 2014 summer youth encounter will consist of a one-week day camp, that's being offered June 16 – 20,  
8:30 a.m. – 4:00 p.m., with extended sessions 2 of the 5 days.  The 8:30 a.m. – 4:00 p.m., three day sessions will consist of learning enrichment, and educational activities.  On the first day of the two extended-day sessions the time will be from (8:30 – 8:00 p.m.) the activities will consist of, teambuilding, creative presentations, games, contemporary positive music, and experiential learning.  On the second day of the extended-days, the time will be (7:00 am – 9:00 p.m.) during that session the camp will take a day long historical bus tour to Montgomery and Birmingham, Alabama. 
We are extending an opportunity for your organization to apply for this  camp experience.  Applicants must be ages 13 – 18.  Every one to five (1-5) applicants must be accompanied by one (1) adult chaperone.  Chaperones are expected to participate in the nonviolence education activities designed specifically for them (separate from the youth) which will benefit them personally and support the youth in their continuing nonviolence learning.  The registration fee is $75.00 per person (students and chaperones individually) for the week, all meals are included.  Applications will be reviewed as they are received and participants will be notified if accepted for the June camp.
Attending the camp will equip the youth to:
Serve as examples to their peers by managing conflicts so situations do not become violent - verbally, mentally or physically
Use the principles of nonviolence based on Dr. King's philosophy to combat bullying by creating nonviolent zones at home, at school and in their communities
Develop leadership  skills that will enable them to think before they act, so they do not act or react violently
Understand how benefits they have today relate to history
Deadline for submission of the application form(s) is Friday, April 30, 2014, however spaces are limited; we encourage you to submit your application as soon as possible.  The application requires the name of the chaperone along with the one to five (1-5) participants applying for admission.  Consent, media, and transportation release formswill be sent once applications have been approved.
While the upcoming summer will offer youth many choices for how they can spend their vacation time, we hope you will consider sending your youth to the "N.O.W. Encounter" summer camp which promises to be an action-packed, fun-filled and life-changing week.Click below to register online.
Sincerely,
Barbara A. Harrison
Director – External Affairs, Strategic Partnerships & Programs
REGISTRATION IS CLOSED